Now that winters have arrived, it is time for you to keep your sweaters and jackets ready for the cold season. Along with those clothes, you will also need to bath with warm water as bathing with cold one will surely give you some serious chills.
For that, you don't necessarily need to buy and install a large and expensive geyser in your bathroom as much cost-effective immersion water heaters can easily do the job.
Here is a list of some of the best immersion water heaters or rods for you to check out before making a purchase decision.
Best Immersion Rods Water Heater in India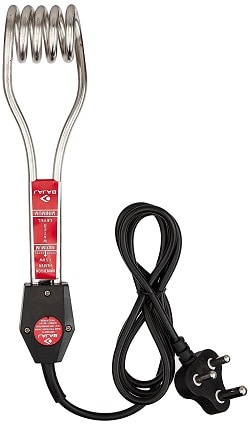 1) Available in multiple power options, Bajaj offers the best solution for heating water these winters.
2) You can either purchase this product in either 1000W or 1500W option depending on your need, which makes it ideal for your specific requirements.
3) The company has made use of anti-corrosion material for ensuring its long life throughout the years you plan to use it.
4) Bajaj has attached a sufficiently lengthy wire on one end that has a high-quality 3-pin plug attached.
5) It must be plugged in a 16A socket to make the immersion rod work. The unit includes markings for minimum and maximum water levels which you must note while immersing the heater in water and it should remain within limits.
6) The company is offering a warranty of 1 year on this rod.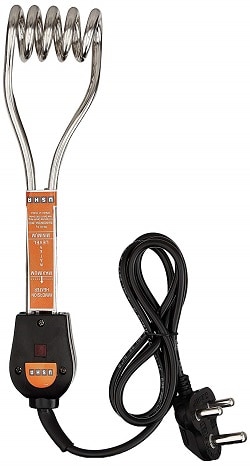 1) Coming from a brand like Usha, you can rest assured of the product's quality and that is backed by the inclusion of 2 years of brand warranty on this water heater.
2) The product has a copper tube element that is plated with nickel for its long life. A hook on the side has been included to hang the heater on the bucket's side.
3) The element used is designed to quickly heat up the water without you having to wait for much longer.
4) Usha has made the included handle out of special insulating material to keep you safe from electric shocks.
5) A neon indicator is also a part of the package that lets you know if the heater is turned on or not.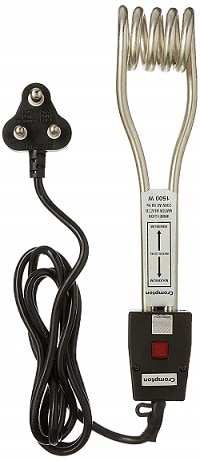 1) Marketed as an affordable product, Crompton hasn't compromised at all on the product's quality.
2) The immersion rod is much shorted than conventional heaters making it easier to handle but still manages to offer features at par with its rivals.
3) With its high-quality element, the rod can heat a bucket full of water within 8-10 minutes, according to the company.
4) Toward its side, some markings have been included to let you know the adequate water level required for the rod to function properly.
5) However, a hook has been included for you to hang it on the bucket's side. An LED indicator helps you identify the power status of the rod.
6) The element material is corrosion-resistant allowing you to use it extensively.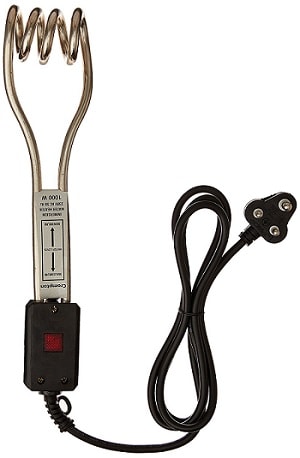 1) In case you are looking for an immersion rod with slightly less heating power, then Crompton also offers a 1000W heater that should be able to perform equally well for your daily needs.
2) The product comes with an ISI mark, so you can rest assured of its quality and its ability to serve you for longer than many other inferior-quality rods.
3) Like any other product from the company, this rod is made out of good-quality materials.
4) The heater comes with a corrosion-resistant element for extended usage and offers a warranty of 1 year.
5) The benefit of a 1000W heater is that it can be used with the normal 5A sockets readily available in most houses.

1) For the people who need to heat a much larger quantity of water might want to go for a more heavy-duty immersion rod like this one from Hy-tec.
2) It is a 2000W rod that can heat several buckets of water within minutes, at a much faster rate than normal rods.
3) The included hook on the side can hold the rod on the bucket of the tub's side.
4) Its element is made using one hundred-per cent copper that is a much superior metal for conducting heat.
5) A sturdy hand grip makes it easier to old and operate while the company has made the whole unit water and shockproof to keep you safe all the time.
6) A thick power cord is included in the package.